The core business: secured credit management
GMA operates in the field of credit management. We appraise assets which guarantee non-performing loans with a strong propensity to extrajudicial and judicial activities and a strong goal-oriented approach. We have redefined the basic managing mechanisms, always making the best of our credits.
We specialize in the mortgage credits management, and, to this end, we can rely on a cutting-edge and advanced structure dealing with property management and real estate development.
We offer our entrepreneurial experience to the reference market.
High quality DD & valuations
Our activity in the real estate sector began in 2008 and now, thanks to our wide competency, we are able to ensure the highest mortgage credit enhancement.
Our due diligence complies with the strictest risk management standards; the real estate appraisals drawn up by our experts combine advanced technical skills with a well-established commercial experience in this sector.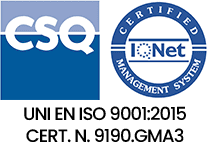 Securitisation
Securitisation is the modern answer to an ancient need: the monetization of debts and patrimonial assets.
Our securitization system has considered requirements dating back to the past, almost 600 years ago, thanks to its original conditions:
– adequate price and immediate payment to the original creditor
– creation of added value in the medium term for those who finance the transaction.
The best professionals of this market work with us to develop tailor made solutions, according to the credit types and the Customers' requirements.
The winning strategy always depends on the specific situation.
Our mission: to appraise assets and NPLs
– GMA appraises the assets guaranteeing non-performing loans
– Our management system aims at maximising credit recovery and profitability.
Our objective is the generation of value, even where the return perspectives are moderate; just like the Japanese art of kintsugi – i.e. the creation of precious works of art with broken ceramic, which gives new life to damaged items.
In the same way, GMA deals with assets and the relating NPLs.