GMA intervention on secondary assets allows us to assess them by adding value to the same credits.
Over time we have gained an extensive experience, which essentially includes two macro types of credits:
Business strategy for mortgage credits
We promote the transfer of the property at the best price through extrajudicial (where possible) and judicial activities. We generally collect a large amount of information about the real estate, its context and owner, as well as on its tenant. Our staff is able to identify and offer innovative and flexible solutions for the property management and the real estate marketing, thus granting the maximum quality and transparency to the buyers.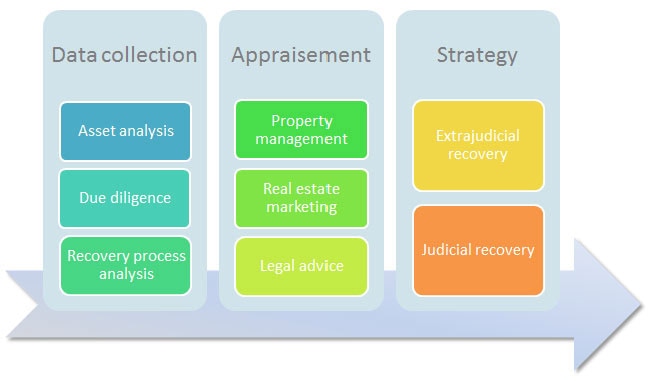 Business strategy for unsecured credit corporate in insolvency proceedings
Our society boasts a proactive approach to insolvency proceedings. We first consider how to restore the company and then identify the most valuable business assets through prompt and targeted actions.
In other cases, the appraisal of the real estate properties culminates with an insolvency agreement to be stipulated with an underwriter, either directly or with third-party subjects.
We carry on judicial proceedings in a proactive way in order to obtain a prompt settlement of the claims. In any case, our business model relies on a customised approach to third-party creditors with the purpose of developing specific strategies for the management of the losses, and for any possible acquisition.
We always keep abreast of relevant legal innovations and studies, thus drawing on constantly updated tools.